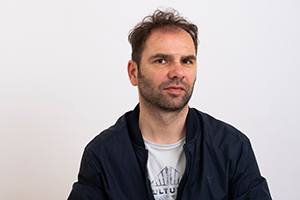 SELECT CLIENT + PUBLICATIONS
ADAC Reisemagazin   Anja Schneider   Art Love Affair
Assmann Beraten+Planen AG   Blue on Blue
Brooks Clothing   Cake Mag Digital   44 Flavours
Design Studio Benjamin Hopf    Fluffy Berlin
Heft Kulturmagazin   KM Rechtsanwälte
Kochlust    Le-Thanh Ho    Little People
Manufactum Häuser   Modzik Magazine
Onyx  Circle AG OS2 Designgroup
Page Magazin Schall Magazin Sneaky/Fingathing
Subway Restaurants Pankebuch Philadelphia
Platnum Renault Trucks Rootknox Music
Summerlove Magazin Vhcle-Mag WHR Aviation
Woods Up Zooppa
ABOUT
Surreal, unconventional graphic images, which invite closer inspection are Alex Mirtschink's signature.
Alex has always had a conceptual artistic vision which was furthered nurtured by his studies in photo design and film at the University of Applied Sciences Bielefeld, where he graduated in 2004. However, it was his period of intensive, experimental studio work as an exchange student at RMIT in Melbourne where he and his work experienced a sort of awakening – he began to find what has become a lifelong passion for vivid colors and stellar lighting. It was soon after that it all came together: conceptual pieces of vibrant colors, lighting wrapped around ordinary objects with a glint of mischievous humor gliding through it.
Alex is never still for long, as he's also evolved some of his work, primarily still lifes and portraits pushing them to respond to the spaces inhabit, natural or urban, combining creativity and his love for detail.
In Alex's work, everything and nothing are as they seem on the first glance — look again and see the world anew.